Swimming Lessons
Andrea, the duty manager, asked Sandra and me to do today's swimming lessons.
Sandra was a qualified school teacher from Amsterdam. She ran most of the kids classes, taking them through the Dutch Zwem ABC, a course that helps kids survive in the water. It is great fun for the kids as they learn everything from swimming in clothes to breaking through ice which is simulated by floating mats with a hole in the middle.
My task often was to run the advanced swimming classes for everyone 16 years and up. The various lessons included advanced swimming skills, aquatic survival training, and some boat handling. For proper realism all swimmers had to be fully clothed, which proved to be very popular. A long shower was mandatory before each lesson and always good fun.
Lessons took about 40 minutes with extra time for questions and answers. In between I got half an hour breaks for refreshments and to change into dry clothes for the next lesson. Staff always had to come on poolside in dry clothes to look prim and proper.
Different Teacher Uniforms
The waterpark management decided that teachers have to be clearly recognisable by class members. For this reason they came up with a specific dress code for the different swimming classes. These clothes had to be worn by the teachers during lessons on poolside and in the water. I always enjoyed dressing up for this.

Lifesaving Lessons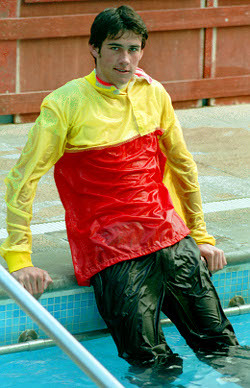 Lifesaving instructors wear a red and yellow uniform.
Advanced Lessons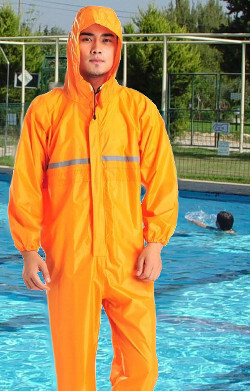 Survival and bootcamp teachers wear orange.
Kids Lessons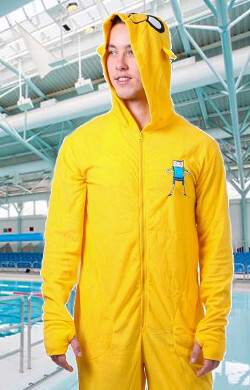 Children love the funny animal costumes of the swim teachers
Advanced Swimming Class
This class was all about swimming skill refinement. While swimming in regular swimwear is easy, it also allows for bad skills and one still move forward. Swimming fully clothed only works with right skills. This was the method we used to improve swimming strokes.
In the staff room I got dressed in running tights, a long sleeve pullover, and the mandatory orange overall with a hood. It allowed full range of movement and looked as good as it felt.
Pierre and his hoodie gang we're among the group who took this class. They looked keen in their jogging suits. The others weren't quite sure what to expect and why they were asked to arrive on poolside fully clothed.
"Are you going into the water with us?" asked Pierre while tugging at my orange overall.
"Yes, of course. I have to show you how to swim, right?"
"Go on, then," he said impatiently, pushing me towards the pool edge.
"After you," I replied and motioned the group to go into chest deep water. There was a lot of laughter and giggling as they got into the pool with all their clothes on. For many this was the very first time. They splashed around, wrestled each other and had a lot of fun.
"Now is your turn to get wet," Pierre shouted while floating on his back in his jogging suit.
He was right, time to show them how to swim in clothes. I enjoyed every bit as my orange overall submerged into the pool, water rushing in to soak my running clothes. This swimsuit felt really good in the water. Pierre tried to wrestle me to get me completely wet.
We then began to swim several lengths using each of the usual swimming strokes. With a waterproof stopwatch I measured their initial times. Those with bad skills could barely move forward while the others quickly moved ahead. Bad swimming skills quickly show up when swimming fully clothed.
Over the next hour they learned how to swim properly and at the end they all had improved their timed swim. Good result. After the lesson we splashed around for a while until they all headed for the changing rooms.

Survival Swimming and Boat Handling
This class was mainly about survival at sea or when boating on lakes. Because this involved standing in the water for a while I wore fleece clothes under my nylon overall to keep warm.
The group was dressed in casual clothes. We waded in from the shallow pool end to give everybody a chance to experience the resistance clothes cause in the water. We swam a few lengths to get a feel for swimming fully clothed. For most participants in the class this essential boating skill was a completely new experience.

Floatation
To begin with I demonstrated the use of a few floatation devices, like buoyancy aids, life-vests, and other personal floatation kit. Then one by one they came into the pool and tried the different equipment. Everybody had a chance to compare buoyancy aids with life jackets to find out why the latter are safer, but not always as convenient.
Resistance Swimming
After everybody had put on waterproof clothes, we swam a few lengths for strength building. We began swimming with buoyancy aids, then without. It made a noticeable difference.

Into the Boats
Finally we got the inflatable boats out to practice capsize drills and recovery. This involved jumping out of the boat and climbing back in again. Not easy in heavy waterlogged clothes.
The frequent in and out of the water soon tired the group, so we took a break in the shallow end of the pool to talk things through. Once everybody had a rest we jumped back into the boats for more mayhem.