Hiker Wash
---
[ Follow Ups ] [ Post Followup ] [ Wet Clothing Forum - Rainwear and Sports Kit Forum ] [ FAQ ]
---
Posted by Felix on June 30, 2019 at 05:34:38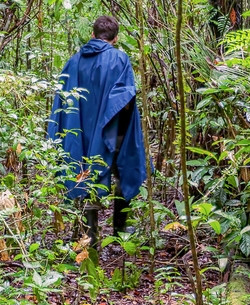 Hiker wash is when you walk through tall grass or vegetation in the rain, or soon after, or when the morning dew made it all wet. Nature smells so good then and you'll get soaked quickly.
Most of my rainwear is no longer waterproof because I wore it in the water too often. This makes it soft and breathable, great for hiking on warm days with nothing underneath, just rain pants and anorak, poncho or hiking cape.
When I enjoy a hiker wash in the woodland my clothes are soaked through very quickly. Condensation also soaks the inside of my rain cape before I even reach the woodland.
When I come home I take a long foamy bath to wash off all the small leaves and mud from my clothes. Very relaxing.
Have you been through a Hiker Wash?
Felix



---
---